THANK YOU, MONDAY NIGHT MEALS
Since October 1983, First Community has provided a Monday night meal to the men at Friends of the Homeless Shelter. Neither COVID nor holidays stop these volunteers from preparing and delivering meals every Monday night. Almost 1900 meals have been prepared for FOH by First Community volunteers since the mission began 37 years ago.
---
MISSION COUNCIL UPDATE
On November 17, the Mission Council met as a group via Zoom after having attempted to schedule in-person socially distanced meetings twice in the past two months! Although we were disappointed not to be together in person, we are grateful for the technology that enables us to continue being productive during this pandemic. During the meeting, the council approved a single pending grant request.
This request was made by GetCR8V (Get Creative) LLC, an integrated creative learning and design agency. The organization is working with Columbus City Schools and has identified at-risk populations in need of assistance this holiday season. The grant award will fund $5,000 worth of gift cards for groceries, Christmas gifts, and household needs to the population identified by GetCR8V. Gift cards enable families to have the dignity of picking foods their families like and to order online during the pandemic.
---
TRADING POST UPDATE
On November 13, Governor DeWine issued additional restrictions for retailers in wake of the rising COVID-19 cases in Columbus. In response, we closed the store temporarily as we evaluated our ability to comply with these standards.
Since closing, we have made strides toward making the Trading Post safer. Plans are in motion to create new plexiglass dividers at the checkout stands, safety and directional signage is ordered and awaiting installation, and we are working with an HVAC expert to evaluate the air quality in the space and how improvements can be made to it.
We are taking this pandemic seriously and want to ensure the safest environment possible for our shoppers and volunteers. In the past several months, the Trading Post has continued to operate under the leadership of three dedicated volunteers: Chris Casavant, Beth Hanson, and Cathy Hanson. These incredible women have our deepest gratitude for taking on the task and we encourage you to express your appreciation to them if you are able.
While we are closed, we are asking all donations to the Trading Post be put on hold. Without adequate volunteers and space, we are unable to process new donations at this time. We appreciate your understanding of these unique circumstances and look forward to accepting donations again soon. Surely, with everyone stuck at home, we will be getting a lot of attics and junk drawers cleared out!
We cannot predict the future but hope to reopen soon. We will continue to monitor the situation and reopen our doors when it is safe to do so. We will follow-up via email when we decide to reopen, and you can also find this information on our social media. Follow us on Facebook.
Thank you for your continued business and support of the Trading Post.
---
HEART TO HEART UPDATE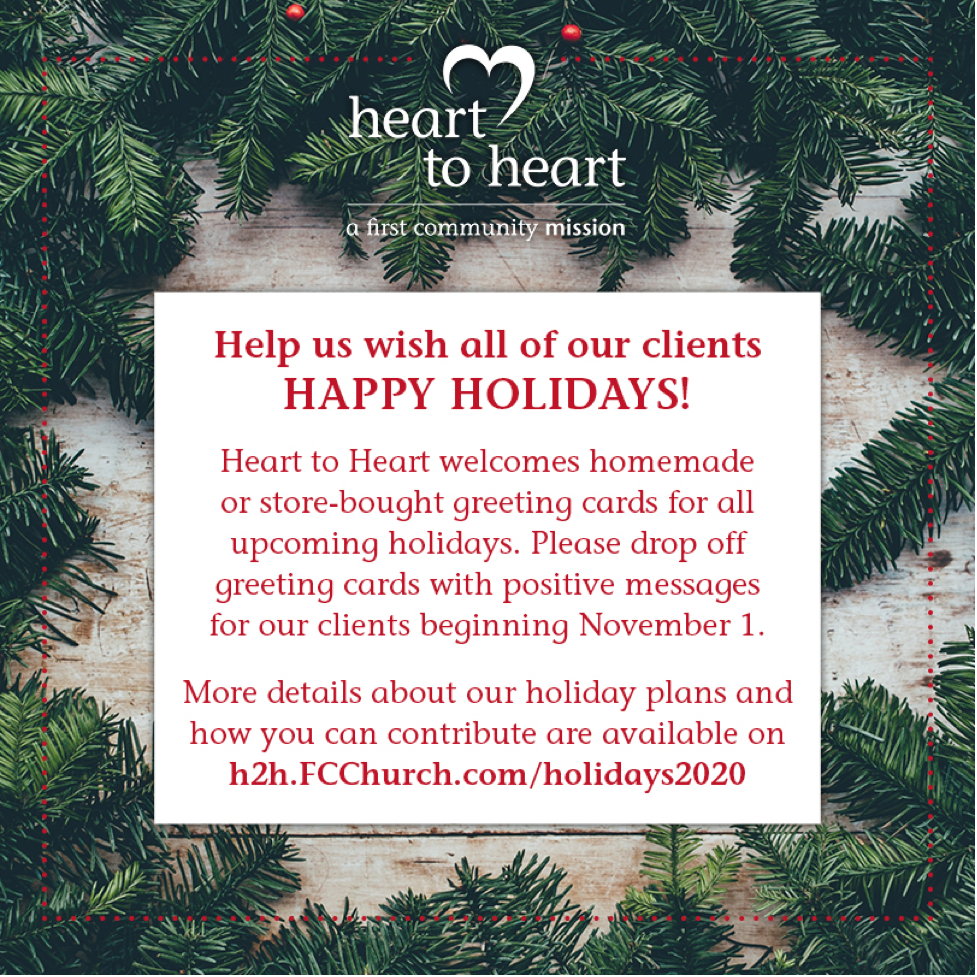 In order to stay up to date with Heart to Heart news, please follow the blog at h2h.FCchurch.com/blog. To subscribe to weekly emails, please click here.
We are disappointed that we are unable to hold our traditional Christmas Presence program with the Trading Post. For the past several years, this event has been a great source of joy for volunteers and clients alike. Instead, all clients who visit the pantry between Thanksgiving and Christmas will be given gift cards to do their own Christmas shopping in the way they feel safest. Volunteers will distribute gift cards to clients during their regular pantry visit and the amount given will correspond to the number of people in the household. We are grateful to have the resources to provide this assistance to our clients.
To contribute to this and other programs, please visit h2h.FCchurch.com/donate. On this page, you will find many ways to contribute to our success including the Kroger Community Rewards program. In the quarter beginning August 1 and ending October 31, this program raised $1,178.75 in donations from 260 participating households for Heart to Heart. Participants must re-enroll their cards in the program every year prior to May. You can sign up or re-enroll at Kroger.com/communityrewards.
---
More from On A Mission Blog