pROGRAM pURPOSE
Broaden and emphasize community justice with initial attention to working toward racial equity, ending gun violence, and creating a sustainable natural environment within the Columbus metro area.
program goals
Each team (Racial Equity, Gun Violence Prevention (GVP), Environmental Justice) within the Community Justice Program will have its own

defined goals and success criteria. All project's activities will seek to:

​

Educate

​

Provide Social Service

​

Identify and advocate for the end of systemic factors that perpetuate

these social issues

​

Each of these activities may be accomplished singularly or concurrently,

based on the needs of each project area.

However, all activities will be

informed by the ultimate objective of systemic change
Upcoming Schedule
All Teams - Combined Community Justice Monthly Meeting - Monday, November 21st, Grace Hall
All three of our community justice teams, which include Racial Equity, Gun Violence Prevention, and Environmental Justice teams; gather on the third Monday of each month. This builds our community as we brainstorm, discuss/plan projects and overall direction of the Community Justice ministry together. Unless otherwise noted, these meetings occur on the third Monday of the month, at 7pm in Grace Hall. Smaller, specialized team meetings around individual projects/events will still occur individually. If you are interested in our community justice teams, please feel free to join us. If you have any questions, please reach out to Kristyn Anderson at !
RECENT events/On-Going Initiatives
GVP - "Be SMART" Gun Safety and Awareness Program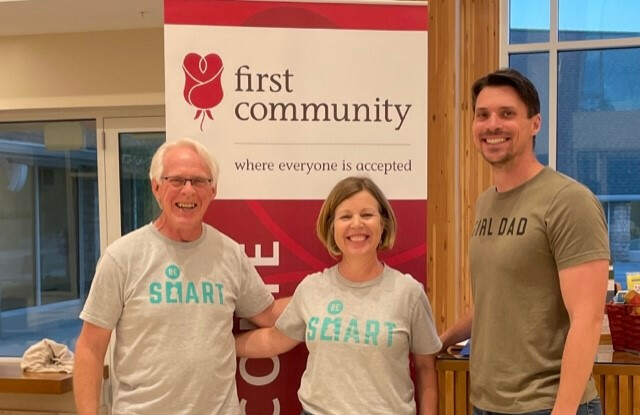 Members of our Gun Violence Prevention Teams recently became certified and have provided our first round of Be SMART training. Be SMART brings awareness to issues such as gun safety/storage, suicide awareness, modelling good behavior for youth, etc. The Be SMART framework designed by Moms Demand Action helps parents and adults normalize conversations about gun safety and take responsible actions that can prevent child gun deaths and injuries. This is a great future conduit for our members to reach out to the congregation and key outside organizations to provide valuable and potentially life-saving information while opening the conversation to broader gun violence prevention imperatives. You can learn more about Be SMART here.
For questions or more information on this program please contact: Kristyn Anderson
GVP - "Guns to Gardens" Event - Gun Safe Surrender Program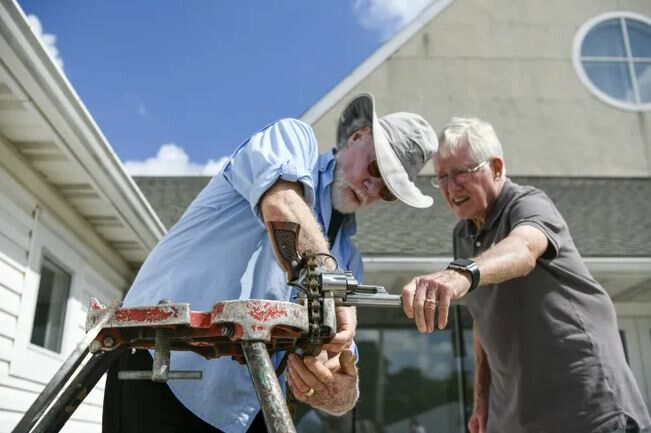 Our congregation participated as one of a handful of national sites for the "Guns to Gardens" Campaign this summer. This Safe Surrender Event was a rousing success. We have collected and disarmed over unwanted guns from individuals within the community while making a powerful statement of choosing creation over harm and sensible gun legislation over an overwhelming gun culture. These disarmed guns will be transformed into an art piece by local artist, Stephen Canneto and displayed at the church. Special thanks to our volunteers and partners Stephen Canneto, Moms Demand Action, God Before Guns, and the Columbus Police Department.
This event garnered attention from local media and has led to great discussion and awareness around a divisive topic. Please see the recent article in the Columbus Dispatch detailing our event here. Please see the news segment on Spectrum News here.
Beyond the event, we continue to collect unwanted guns from the community. For questions or more information on safely surrendering unwanted guns contact: Kristyn Anderson
All Teams - Monthly Ministries 4 Movement Marches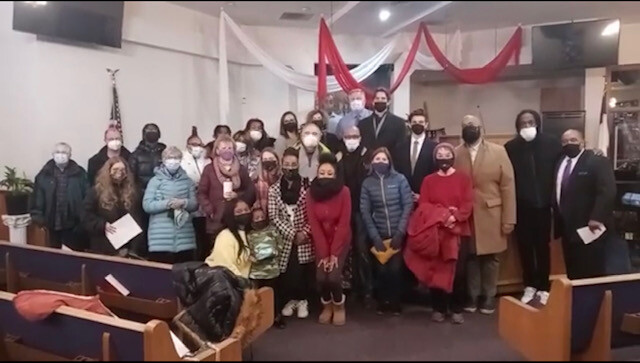 Several members of the Racial Equity and Gun Violence Prevention (GVPMT) Ministry Teams participate monthly in a march and worship/information session with members of the Family Missionary Baptist Church and Ministries 4 Movement partners in the South End of Columbus the first Sunday of each month. First Community is recognized as an official partner of Ministries 4 Movement. We continue to work with this community and other partners for sustainment and new opportunities to contribute to justice causes. These marches occur the first Sunday of each month (rain or shine) at 3pm.
If you are interested in attending this worthwhile event, the next march is on Sunday, October 2nd at 3 PM at 996 Oakwood Ave, Columbus. Please sign up here if interested.