Core Missions
heart to Heart
Our open-choice food pantry serves clients serving clients in need of food assistance Tuesday and Thursday 9 am to noon at First Community South.
Learn more:
Tri-Village Trading Post Thrift Store
Our low-cost thrift store in the Annex building at First Community South is open Monday, Wednesday, Friday and the first Saturday of the month from 10am to 4pm.
Learn more:
Refugee Ministry
The Refugee Ministry Team (previously known as the Refugee Task Force) has a long history of assisting refugee and immigrant families with the transition into life in Columbus.
Learn more:
MISSION MINISTRY TEAMS:
Share and Learn Gardens
Prison Ministry
Monday Night Meals
Warm Welcome Knitters
Mat Makers
Mission Partners:
Back Bay Mission
Deep Griha Society
Habitat for Humanity
Rafiki Global AIDS Ministry
Mission Finance Team
The Mission Finance Team asked with oversight and distribution of mission contributions to support mission activities locally, nationally, and internationally.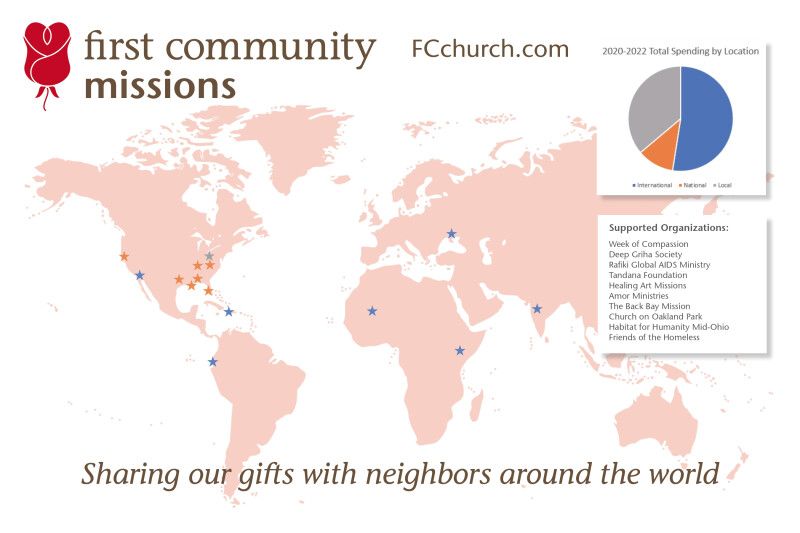 To apply for a grant through Missions, please click here and complete the application.
Give to Missions:
Financial Donations
To make a donation to Missions online, please click here. From the "Fund" dropdown, choose "Missions Designated Funds", then make your selection in the "Sub-Fund" dropdown menu.
Material Donations
Several Mission Ministry Teams collect material goods on behalf of the communities they serve. Please review the flowchart to make sure you have all the information you need to make an informed and useful donation. Click to enlarge the image below.
Interested in learning more or joining the team?
Attend an All Teams Meeting on Fourth Tuesday of Each Month, 6 pm at First Community North.