Submissions accepted online September 9 - October 31
Please review all contest details. Submission form at the bottom of this page.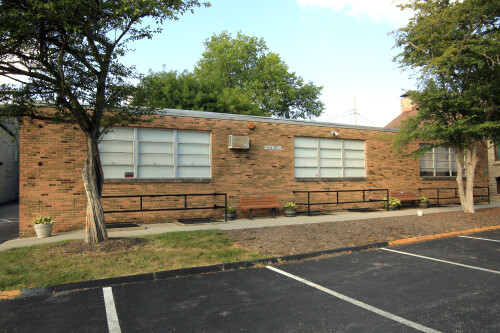 Objective
Create a visually appealing mural that represents the mission of our church, improves the appearance of First Community South and promotes community engagement.
Details
The outside of the Annex building at First Community South is not aesthetically congruent with the other two large buildings at the location. Rather than try to disguise the building, we hope to use it as a blank canvas to celebrate the principles and ministries of our church. This project will provide an opportunity to integrate the community in the design and promote engagement in church activities. Research shows that public art is beneficial to the entire community, encouraging a sense of ownership and belonging. Columbus has seen an increase in public art murals over the past several years and we look to expand the effort.
The mural design will be sourced from community contest submissions. The resulting submissions will be narrowed down to a few that best depict the themes desired and are the most visually appealing. The church and community will be given the opportunity to vote from the small group of finalists.
Community participation is an important aspect of this project and should be considered in project proposals. The mural will be physically completed in cooperation with the designer and volunteers in the Spring of 2024. Artists should estimate the time required for completion of their project when submitting a proposal.
Location
The mural is proposed for the exterior brick wall of the Annex building, facing First Ave at First Community South. Depending on the resulting design, we will consider painting the rest of the exterior to coordinate with the artwork.
Artists should visit the site to take their own measurements and assess the medium for their mural. No appointments are necessary as the location for the mural is outside.
Themes and Imagery
Artists should consider the objective of the mural when creating their design. There are some images and themes that we hope to be included. Keywords to incorporate into the design
Colorful
Lively
Rose(s), a symbol of First Community
Community
Belonging
Inclusivity
Service
Love
Cost
The church will secure funding for this project through private grants. The estimated cost of your time and materials should be included in your proposal.
Timeline
| | |
| --- | --- |
| September 9 | Project Launch |
| October 31 | Submissions Due |
| November 1 - 10 | Staff picks 3-4 finalists |
| November 13-24 | Finalists contacted with requests for revisions, if necessary |
| December 1- 24 | Congregation votes online |
| December 25 - January 1 | Winner contacted to prepare presentation to congregation |
| January 27 | Winner announced to congregation |
| Spring 2024 (TBD) | Artist prepares mural for community |
| Spring 2024 (TBD) | Community Participation Day |
Submit your proposal online below by October 31!
If you have any questions about the project, please email .
Physical proposals and materials will not be collected for this contest until finalists are named.
---