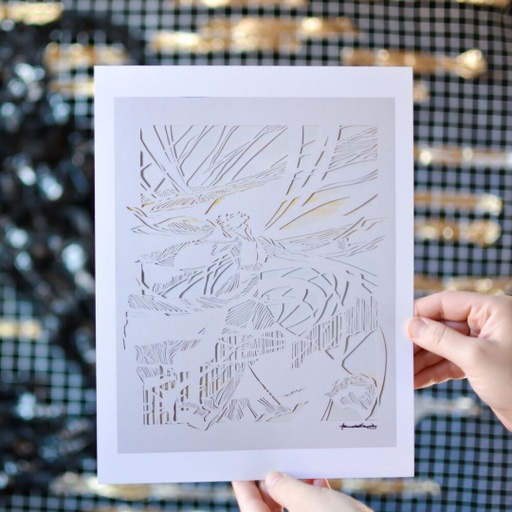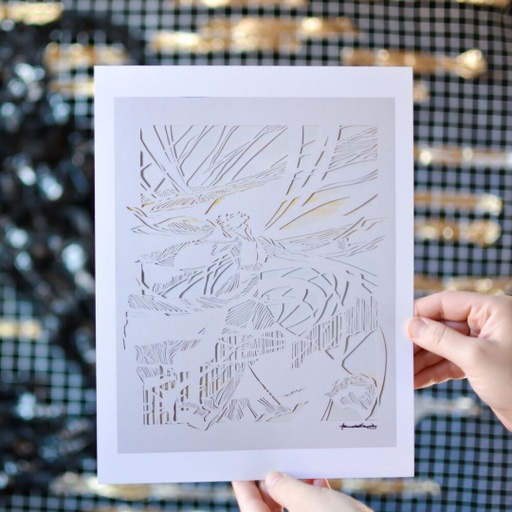 n
Artist Reflection: Dawn
by Hannah Garrity
Inspired by Isaiah 58:1-12 | Paper lace over watercolor
In this image, I am mesmerized by the lines, the way that even in the two-dimensional, this dancer is in perpetual motion. Even in a
whirlpool, threatening to suck away her life, this dancer is rising— effortlessly. It is magical.
But fighting oppression in real life is a constant exercise in finding the magic in a moment. Fighting oppression in real life is the
antithesis of effortlessness. As I look around our world, I see people doubling down to forward oppression. As I look around our world,
I see so many amazing embodiments of our Holy Spirit, pushing back, spinning out, rising up. It is magical. I am amazed.

In this image, I have represented a woman spinning up out of a whirlpool, her face shining up at the sun. She rises above the ruins of ancient cities. Background motion spins up with the energy of the woman who represents the Holy Spirit, who represents the oppressed breaking free
from the yoke, breaking "forth like the dawn" (Isaiah 58:8)
—Hannah Garrity
Daily Devotion: Gentle
Read: Titus 3:1-15
Reflection Questions: Can you think of a person in your life who is gentle yet strong? How are they impactful? How might you adopt that character?
Prayer: Gracious God, being people of faith has never been easy. From the very beginning, we have needed reminders—to be gentle, to show courtesy, to devote ourselves to good works. In a world of division, help me be gentle. May that gentleness be a power for good. Amen.
—Prayer by Rev. Sarah Are | A Sanctified Art LLC | sanctifiedart.org
Activities for Children
MARK 1:9-15 | GENESIS 9:8-17
Engage: Begin with a story about something new you've started doing recently that's had some challenges, such as training for a 5K, learning to knit, planting a garden, or starting a new job. Alternatively, you might tell the children what practices you plan to start or give up for Lent. Ask, "Have you ever tried something new that was hard at first? … Did anyone help you as you were learning? … Did they expect you to be perfect from the beginning?"
Explain: Today is the first Sunday in Lent. Lent is a season when we think about what we can do to be better people and follow Jesus. Sometimes we even give something up or start doing something new that will help us to follow Jesus more closely. Starting something new can be scary or hard, but we don't do it alone. God is with us! God doesn't wait for us to be perfect and get it all right, but meets us right where we are. When Jesus started telling the good news that heaven was near, God was there from the beginning. God was there when Jesus was baptized, God was there when Jesus was in the wilderness, and God was there when Jesus started his ministry. And God is with us too, no matter where we are in our lives.
Pray: Dear God, thank you for meeting me exactly where I am. I know that you are always with me no matter where I go. In Jesus' name, Amen.
Play: Write a poem together. Start each line with, "God is with me…" and take turns finishing the sentence. Example: "God is with me in my home, God is with me on my own. God is with me in the car, God is with me near or far. God is with me here or there, God is with me everywhere."
---
More from Again And Again Lenten Blog