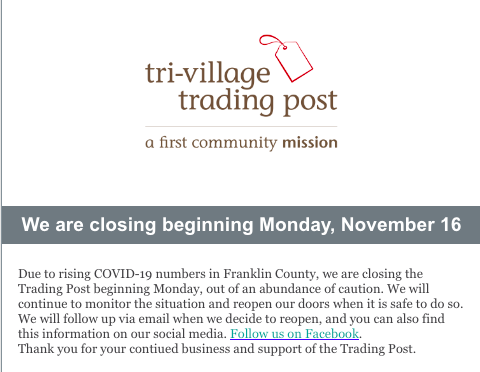 The Trading Post will continue to be open three days a week for the foreseeable future: Mondays, Wednesdays, and Fridays from 10 am – 4 pm. It is also open Saturdays by appointment only. Volunteers and shoppers must wear a mask, sanitize hands, and observe social-distancing guidelines. We will provide hand sanitizer.
INFORMATION REGARDING DONATIONS
We are able to accept donations during our open business hours. Items can be left in the hall upstairs or you can let a volunteer know that you are here to drop off if assistance is needed. Each bag or box will be labeled as to the date of its arrival and stored until it can be safely opened. We welcome your household items as well as your laundered clothes, but please understand that storage constraints do not allow us to take anything that does not fit in a closed bag or box. Please wear a mask when delivering your items.
Location
1944 W. First Avenue Columbus, OH 43212 (at the corner of First and Cambridge Boulevard in the brick Annex building)
Contact
(614) 488-6564 or
About
The Trading Post opened in February of 1953. Staffed by volunteers, the Post is going strong after more than 60 years and its proceeds continue to benefit First Community Church and its missions.
Make Your Purchases Count
The Trading Post gives away its profits to not only our church but to a volunteer designated local charity each year. Recipients of our giving include: STAR House, Freedom a la Cart, Hilltop Shalom Zone, Rebecca's House and Amethyst.
Shop and Make a Difference!
Be a Customer
Experience a wide array of well-presented, low-priced items in a friendly, organized atmosphere. In essence, have a "boutique shopping experience at bargain prices." For your convenience we accept credit cards.
Be a volunteer
Share your spare hours with the Post. Friendly faces will greet you and help you learn the work.