We are excited to safely welcome you back to in-person gatherings this summer at First Community. Our Summer Set List features some of our favorite summertime activities such as a Welcome Back BBQ, a Pride Festival, Concerts, Baseball, Movies, Parks, and More. It is time to grab an old friend or make a new one and join with First Community for fellowship and fun this summer.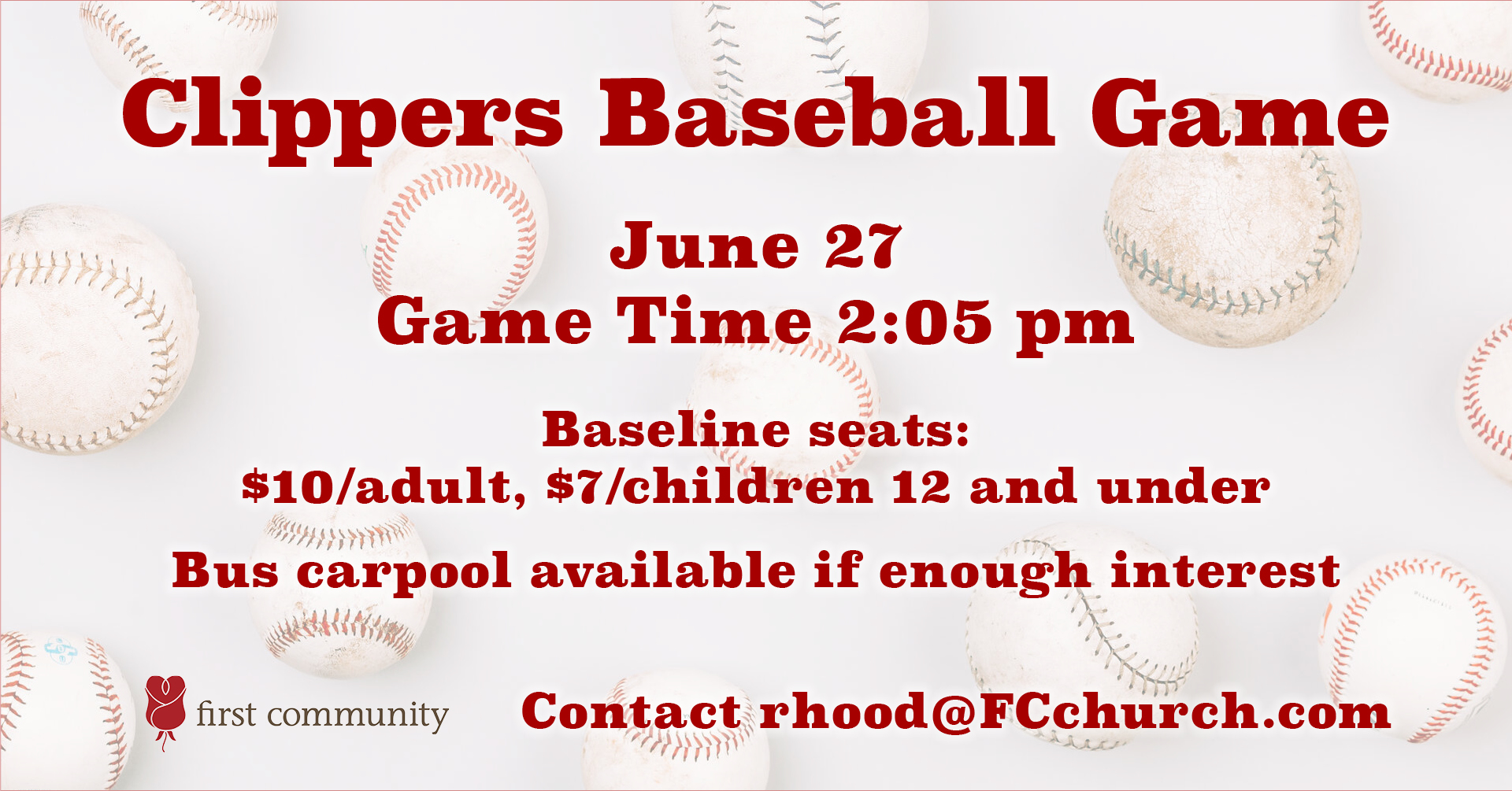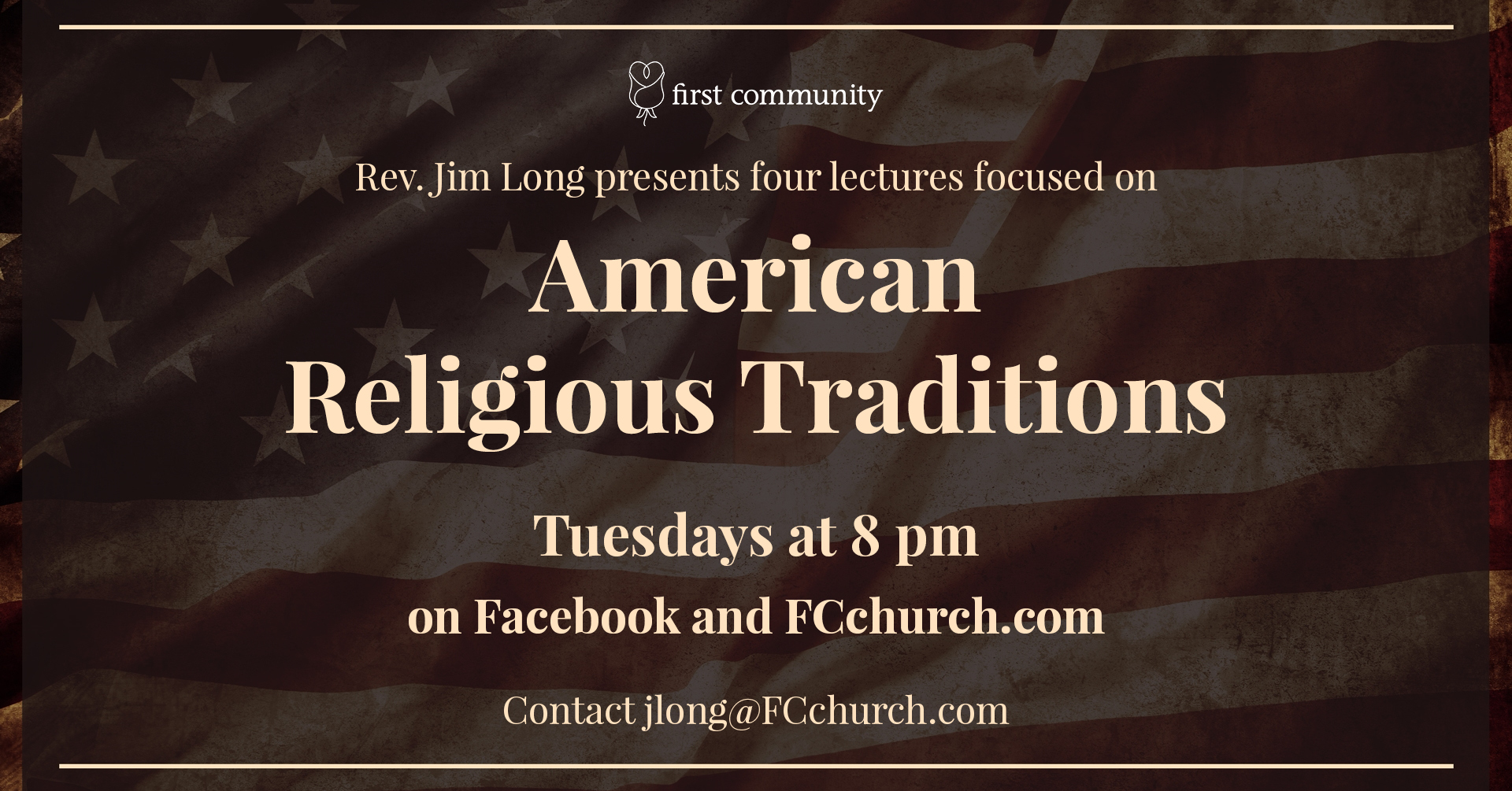 Reverend Jim Long will present four lectures in July on American Religious Traditions. He will discuss the pluralistic religious history, theology, politics, and ethics of the immigrant and indigenous religions in our nation, as well as the relationship of church and state in our democratic society.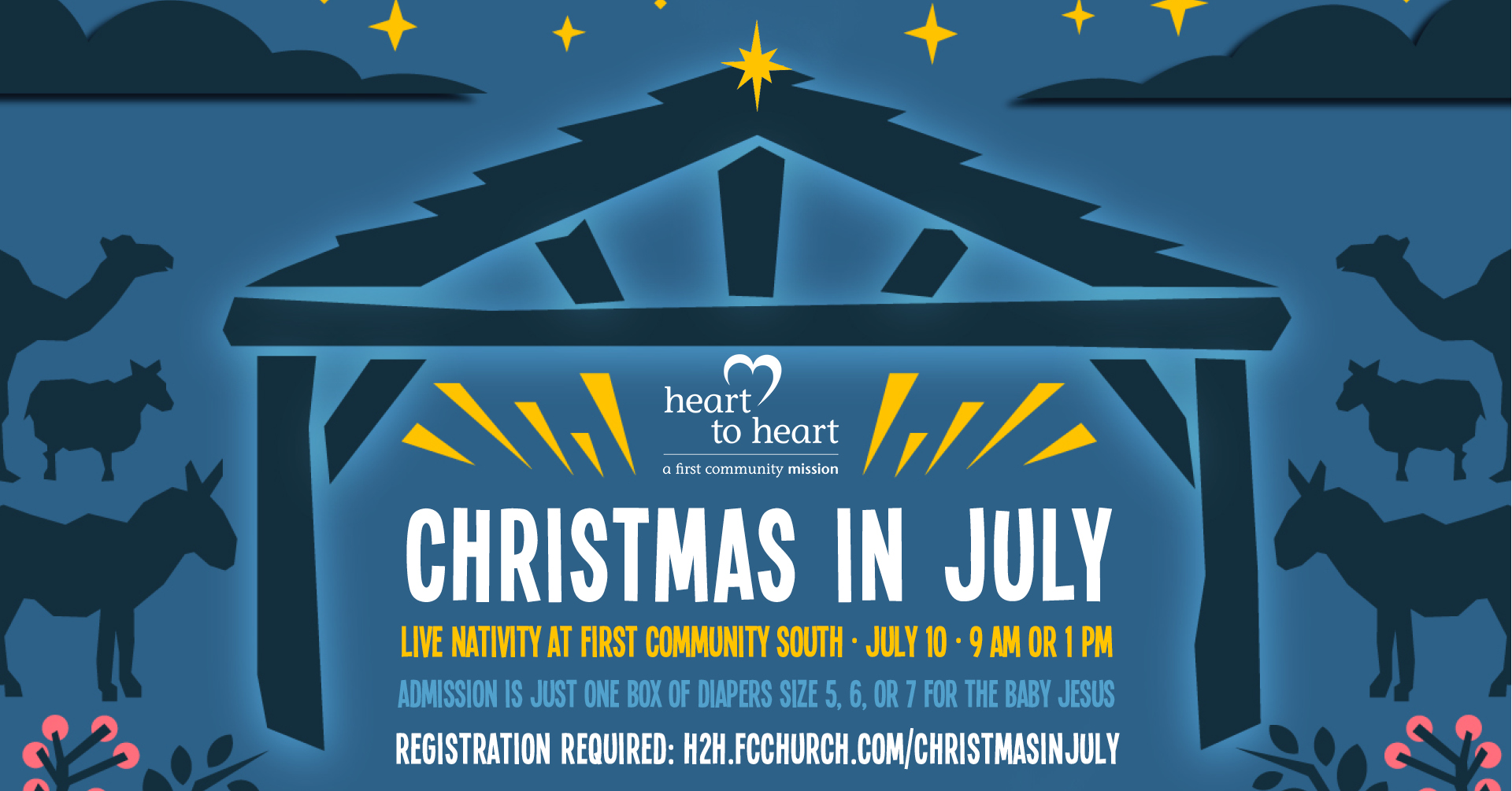 Come to the live nativity at SC on Saturday, July, 10 at 9am or 1pm. We will welcome camels, a donkey and many more from Honeyhill Farm into our Heart to Heart tent-turned-manger. Experience Christmas in July complete with decorations and carols sung by the choir. The Kona Ice truck will be available to purchase refreshments. Admission to the event is just one box of diapers size 5, 6, or 7 (or a box of wipes) for the baby Jesus.
Rev. David Hett, Dean of The Burkhart Center, presents four of past Spiritual Searcher Mirabai Starr's "Mystics Summit" interviews, each Monday evening in June, followed by group discussion.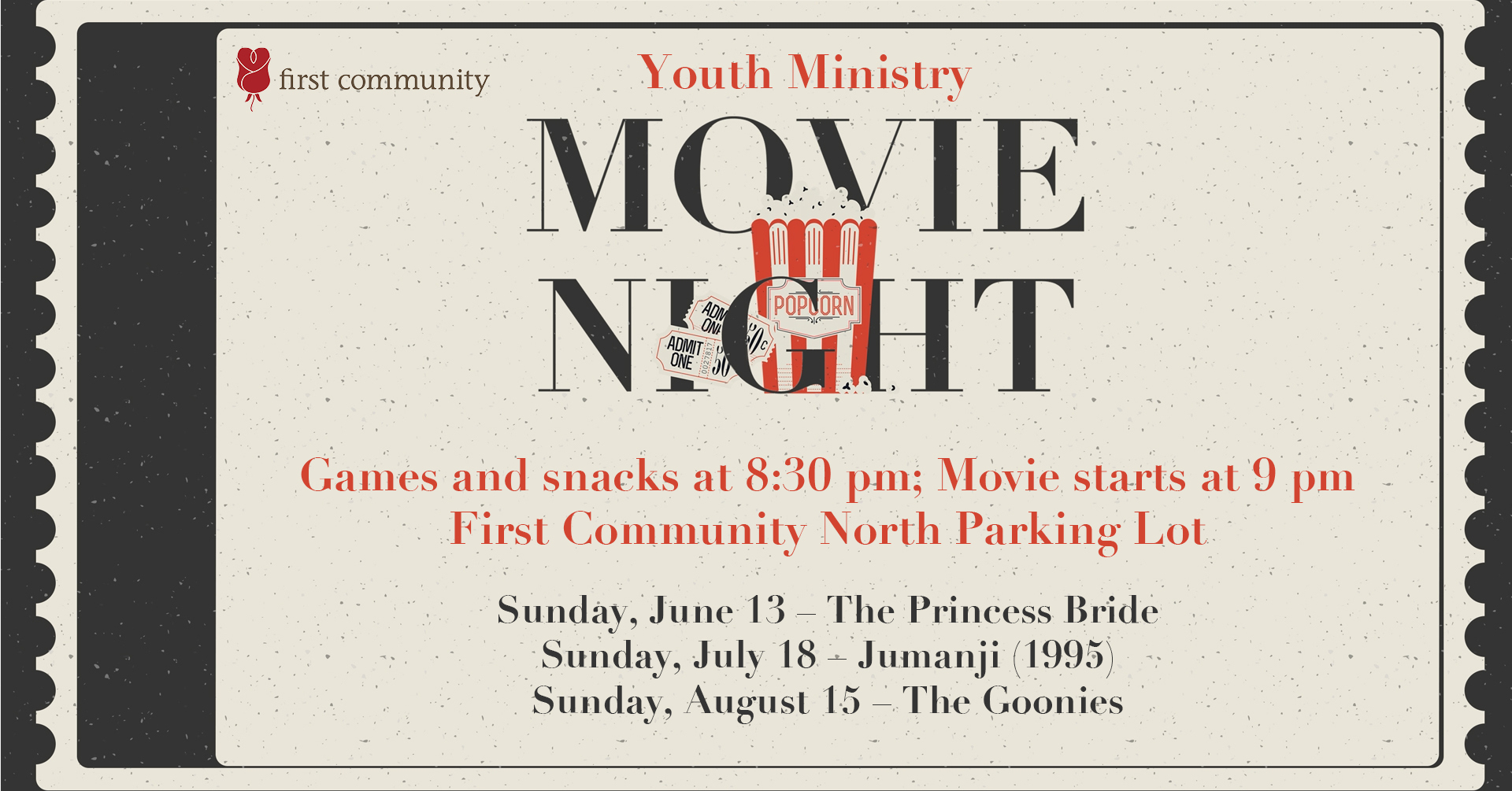 Youth Ministry staff and leaders will host grades 6-12 for games and snacks before outdoor movies begin in the FC North parking lot. Younger siblings may attend if accompanied by a parent. Bring your own chair. In case of rain, we will move inside Grace Hall and wear masks. No RSVP required. Please email Rev. Sarah Kientz with questions.
Young Adults are invited to join Rev. Sarah Kientz for dinner, community, and conversation. RSVP's required to ensure enough food.
Children entering grades 1,2, and 3 can join the K-5 team for some faith-based summer fun. Our newly added afternoon session has openings from 2-5 pm on July 28 and 29 with a full day trip to camp, 8:30 am - 4 pm on July 30.
Early Childhood Ministries of First Community invites you to join us for Pop-tarts on the Playground on August 1 after worship at First Community North .
Come to play on the Mary Evans Child Development Center Playground and enjoy pop tarts and fellowship with other families.
Join your Akita and First Community friends at a special worship service celebrating and capturing the summer at Akita. We try to have as many of our staff present as possible. There will be celebratory activities going on after worship - music, food, and fun!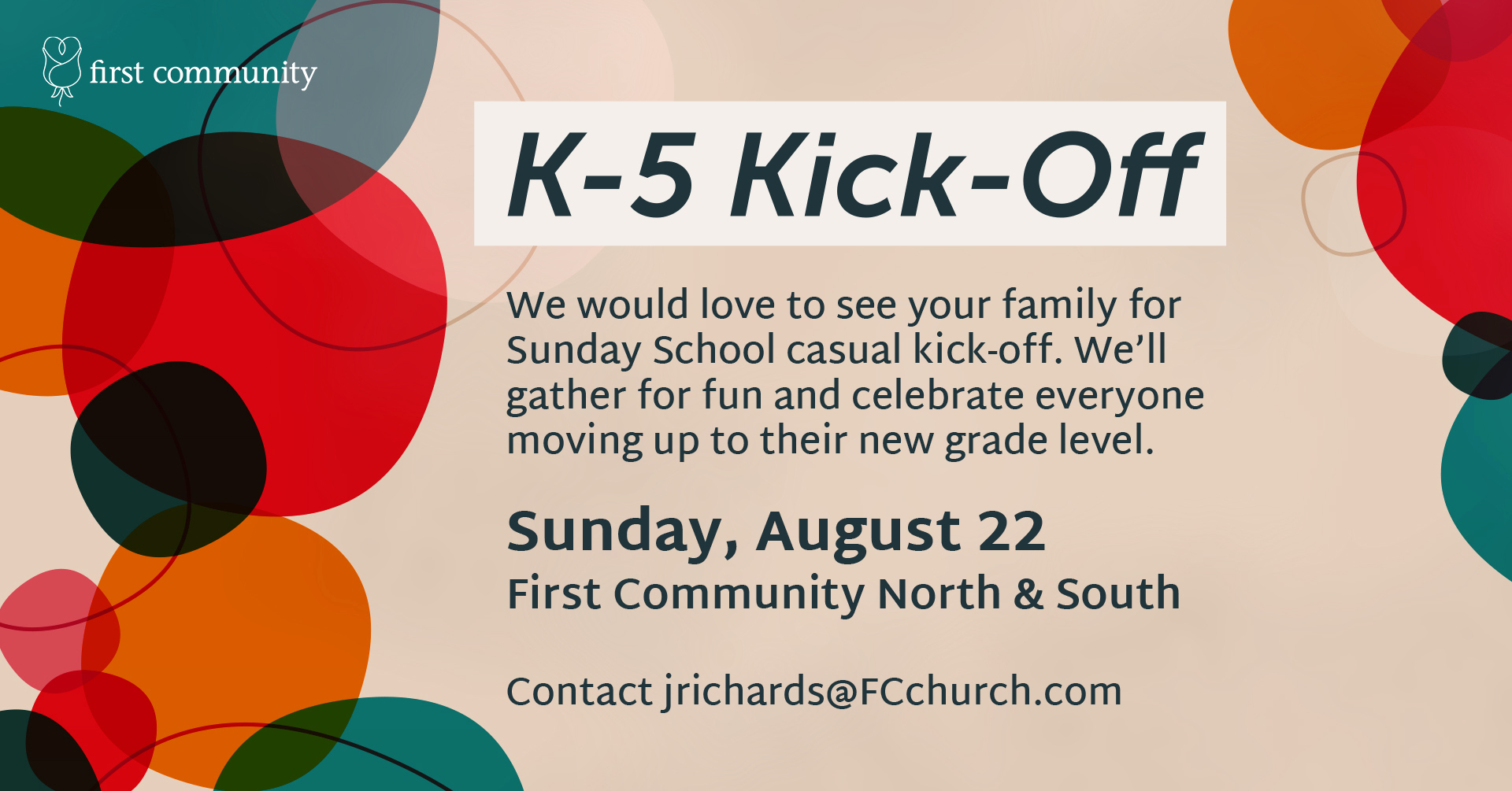 Back to school is a great time to get back in the groove of coming to Sunday school.
We would love to see your family for a casual kick-off of Sunday school on August 22. We'll gather for fun and celebrate everyone moving up to their new grade level.